PIM's 6th Annual
Above Borders Aerial Dance Festival
Fabric Extravaganza 2017!
September 22, 23, 24
Project In Motion is proud to announce its sixth annual aerial dance festival! This year we will be celebrating all things aerial fabric with partnering classes by guest instructor and returning company member, Joe Duerksen.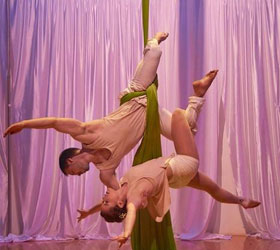 In tandem with the partnering classes, fabric technique classes will be taught by visiting artist Dara Minkin of Aerial Design fame. Both artists are young and innovative and have years of performing experience to share. They will be the central focus of the two concerts at 7PM, Friday and Saturday. Joe will be joined by his talented wife Aubrey. Please see the biographies at the end of this announcement for details.
Project In Motion Company Auditions follow the Sunday classes, September 24 at 6PM.
ABOVE BORDERS AERIAL DANCE FESTIVAL SCHEDULE:
Concerts
Friday and Saturday Night at 7PM
Featuring Dara Minkin of Aerial Design
and Joe and Aubrey Duerksen
Saturday
Kids 10-12 with Joe and PIM
Adults 1-6
1-2:30 Beg/Int Adults with Dara
or Rings and Cyr Basics with PIM
2:45-4:15 Intermediate/Advanced with Dara
or Rings and Cyr Basics with PIM
4:30-6 Partnering with Joe and Aubrey
Sunday
10-12 Kids with Joe and PIM
1-2:30 Partnering with Joe and Aubrey
2:45-4:15 Beginning / Intermediate Fabric with Dara
or Rings and Cyr Basics with PIM
4:30-6 Intermediate/Advanced Fabric with Dara
or Rings and Cyr Basics with PIM
6PM PIM Company Auditions
WHERE:
430 N.Compress, Las Cruces, N.M.

CONTACT:
pimdance@gmail.com
575-208-4413
Classes: Please register with the Fabric Workshops button below
ADMISSION / FEES:
Concerts:
$10 Friday and Saturday - 7pm
Above Borders Festival Concert Featuring Dara Minkin, Joe and Aubrey Duerksen with PIM Adult Apprentices and PIM Kids Company Tickets Extremely Limited!

Workshops:
Instructors Dara Minkin and Joe Duerksen
$50 both days Kids or Adults
$30 One Day Kids or Adults
$20 One class Adults Only

FEATURED ARTISTS:
Dara Minkin:
Dara Minkin is an aerial acrobat and dancer specializing in aerial silks and rope. With a Bachelor of Arts in Contemporary Dance from the University of New Mexico, she has extensive training in many dance disciplines, including Stott Method Pilates, Martha Graham Technique, Gaga Technique, Ballet, and Middle Eastern Dance. Having performed for fifteen years and taught for nine, Dara has designed a teaching method for vertical aerial arts, soon to be published in book form as Aerial Design. She has taught workshops at Aire Festival, Vertical Fix, Radical Movement Factory, Agora Arts, and Frequent Flyers. Dara resides in Albuquerque, NM; she travels, teaches and performs while continuing her pursuit of publishing Aerial Design.
Dara Minkin Instagram @aerial.design
Joe Duerksen:
As a Project in Motion Alumni, Joe collaborated and performed with the company from 2009-2012, bringing knowledge and experience from extensive participation in a variety of athletic ventures and collegiate training in sports education. After three years of performing and traveling with PIM he left to pursue a Master's of Edu in Recreation & Fitness. He currently lives in Richmond, VA and is a member of Host of Sparrows Aerial Circus, performing solo and duo aerial silks, aerial lyra, aerial rope, and partner acrobatics.
Aubrey Duerksen:
Aubrey comes from a 12 year background of competitive gymnastics followed by 8 years of studying and coaching power tumbling. Combined with a lifelong love for the aerial arts and circus acrobatics, she quickly transitioned into the circus world after being introduced to Host of Sparrows Aerial Circus in 2012. In 2013, Aubrey joined the Richmond, VA circus company to continue training in solo and duo aerial silks, aerial lyra, aerial rope, and partner and group acrobatics.