Project in Motion Bios
Project in Motion 2011 Members
Click on the person's name for their biography and images
Hilary McDaniel-Douglas is the Artistic Director of Project IN Motion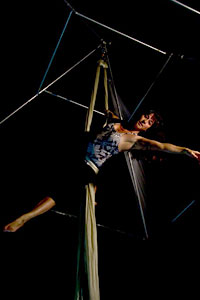 Dance Company (www.projectinmotion.com). She is a graduate of Indiana University and is a Certified Instructor of Bill Evans Technique. She received scholarships to study at Interlochen Arts Academy High School in dance and writing after attending Interlochen Arts Camp in Dance and she is an academy graduate. While at Interlochen she studied Horton and Cunningham modern techniques and Checcetti and Vagonova Ballet techniques. She was given a Scholarship to Sarah Lawrence College in dance and writing. Hillary also has also been an adjunct instructor of dance for New Mexico State University in Las Cruces New Mexico. She has additinally taught at UTEP and other local workshops.
Hilary has been honored with a Fellowship from the Indianapolis Arts Council (2003), grants from numerous local Arts Councils, and has collaborated for grants with Riley Area Development Corp. in Indianapolis and Community Art Works in Lafayette Indiana. She has performed with Susurrus Inc., Windfall Dancers,Project IN Motion and East Village Dance Project and as an independent artist across Indiana and Ohio.
She has taught or choreographed for Young Audiences, Ohio Northern University, Earlham College, Ballet Internationale(Indianapolis Ballet), Jewish Community Centers of Indianapolis, The Children's House Montessori School and several community centers and independent dance programs. Her performance credits include The Indianapolis Museum of Art, The Waldron Center of Indianapolis, The Construction Company of N.Y.C. and Lincoln Center Summer Festival also in N.Y.C.,as well as, countless school performances. She has developed site specific performances for historic sites and a state park and is especially interested in collaborative intercultural dance and music performances.
Along with numerous years of dancing and teaching for all levels she has choreographed aerial work for the last decade. Her continued interest in applying modern dance language and principles to aerial performance has led her to study with such masters as Fred Deb and Jacques Bertrand in La Baule, France, and David Clarkson, of Stalker Theatre Company, Australia. She has taken part in numerous aerial dance festivals including the Frequent Flyers Festival in Boulder Colorado under the direction of Nancy Smith and she continues to participate in Bill Evans technique classes whenever they are available. Her site specific works, especially El Río En Vívo along the banks of the Rio Grande, have inspired new ways to see the ever colorful New Mexican landscape for the local community.
Her personal triumphs include a Wayne State University Poetry Award and scholarship and appointment as student representative for Indiana University Divestment Proceedings special contact to Bishop Desmond Tutu. Hilary speaks French passably and maintains some control over her son Rollo Douglas and their Jack Russell Terrier Puck, but not much.