Project in Motion 2011 Members
Click on the person's name for their biography and images
Hilary McDaniel-Douglas is an adjunct instructor of dance for New Mexico State University in Las Cruces New Mexico and the Artistic Director of Project IN Motion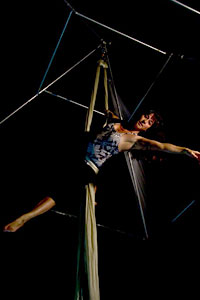 Dance Company (www.projectinmotion.com). She is a graduate of Indiana University and is a Certified Instructor of Bill Evans Technique. She received scholarships to study at Interlochen Arts Academy High School in dance and writing after attending Interlochen Arts Camp in Dance and she is an academy graduate. While at Interlochen she studied Horton and Cunningham modern techniques and Checcetti and Vagonova Ballet techniques. She was given a Scholarship to Sarah Lawrence College in dance and writing.
Hilary has been honored with a Fellowship from the Indianapolis Arts Council (2003), grants from numerous local Arts Councils, and has collaborated for grants with Riley Area Development Corp. in Indianapolis and Community Art Works in Lafayette Indiana. She has performed with Susurrus Inc., Windfall Dancers,Project IN Motion and East Village Dance Project and as an independent artist across Indiana and Ohio.
She has taught or choreographed for Young Audiences, Ohio Northern University, Earlham College, Ballet Internationale(Indianapolis Ballet), Jewish Community Centers of Indianapolis, The Children's House Montessori School and several community centers and independent dance programs. Her performance credits include The Indianapolis Museum of Art, The Waldron Center of Indianapolis, The Construction Company of N.Y.C. and Lincoln Center Summer Festival also in N.Y.C.,as well as, countless school performances. She has developed site specific performances for historic sites and a state park and is especially interested in collaborative intercultural dance and music performances.
Along with numerous years of dancing and teaching for all levels she has choreographed aerial work for the last decade. Her continued interest in applying modern dance language and principles to aerial performance has led her to study with such masters as Fred Deb and Jacques Bertrand in La Baule, France, and David Clarkson, of Stalker Theatre Company, Australia. She has taken part in numerous aerial dance festivals including the Frequent Flyers Festival in Boulder Colorado under the direction of Nancy Smith and she continues to participate in Bill Evans technique classes whenever they are available. Her site specific works, especially El Río En Vívo along the banks of the Rio Grande, have inspired new ways to see the ever colorful New Mexican landscape for the local community.
Her personal triumphs include a Wayne State University Poetry Award and scholarship and appointment as student representative for Indiana University Divestment Proceedings special contact to Bishop Desmond Tutu. Hilary speaks French passably and maintains some control over her son Rollo Douglas and their Jack Russell Terrier Puck, but not much.
Joe Duerksen has been a Project In Motion company member for over three years. Following a dance class while a Kinesiology major at New Mexico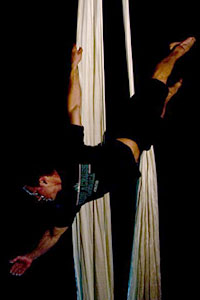 State University, Las Cruces, Joe was invited to learn a duet in PIM and climb for the first time. He never looked back. Within months Joe was performing, nets, fabric and terrestrial dance with the company, as well as contributing to workshops, outreach and choreography.
Joe, a New Mexico native, grew up in Artesia, New Mexico and graduated with honors from Artesia High School where he was active in sports. He attended NMSU in Las Cruces and graduated with a BS in Kinesiology in 2010. While at NMSU he worked as a student athletic trainer and a personal trainer locally. He was the supervising counselor and instructor for the Kids Across America Camp ropes course, rock wall and zip line in 2009, and returns to that position periodically.
As a PIM instructor Joe teaches Exercise and Cord Lisse. He brings his extensive Kinesiology background to training dancers as aerialists and aerialists as dancers. He's certified in CPR by the American Red Cross and is an ACE certified Personal Trainer. Joe has participated in aerial dance workshops with Kevin O'Conner, in cord lisse ,Nanci Smith in single point trapeze, and Deirdre Morris in Aerial Fabric. Joe's first co-choreography piece on cord-lisse , choreographed with Ann Bishop, called "Old Haunt" was performed in May 2011. Joe is performing a role in "The Palace at Night" with partner Anika Jones that was developed for them specifically.
Joe has also participated in numerous films and in 2010 played the villain in local full length movie sensation, "Bomb Squad". He is a talented musician who plays drums and guitar and sings for a local band and continues his flag football career with the 4th ranked NIRSA Las Cruces team. Joe had never worn a unitard before his first performance with PIM.
Anne Bishop grew up dancing in her native New York at Ginny Santangelo's Dance Center.  After discovering modern dance while under the direction of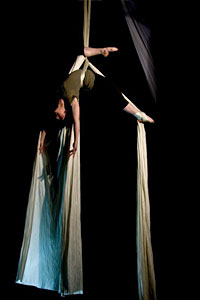 Jolene Konkel, Anne took many dance opportunities, which led her to perform in over 30 U.S. States, Canada, Estonia, Latvia, Taiwan and Mexico.
Anne studied contact improvisation with Dannell Dever Shu, modern dance technique with Steve Rooks and Bill Evans, ballet with Jiri Sebastian Voborsky and Kathy Thiboeaux and tap dance with Cheryl Cutlip. Currently Anne teaches teens at Michele's Dance Academy under the direction of Kevin Self, in Las Cruces, New Mexico . She also takes part in Academy productions. Mrs. Bishop is currently enrolled at New Mexico State University's dance program, also in Las Cruces, under the direction of Debra Knapp. She was awarded the Jose Tena Dance Scholarship, the Jeff Smith Endowed scholarship and the Modern Dance Scholarship.
Anne has been with Project in Motion since 2009 as an apprentice and a full company member since 2010.  Her experience with aerial dance has renewed her passion for dance, and now with the act of flight, she envisions choreography with less limits than before. Anne performed in Wingwalkers Concerts and in the site specific pieces El Río En Vívo on the banks of the Río Grande and Give and Receive at Mesilla Shops. She is a dancer, aerialist and choreographer in the current 2010/2011 season "Music's in the Air".
Ann is spiritual leader of a pack of three dachshunds. She and her husband Sam make excellent costumes for PIM. The dachshunds are rumored to have their own little costumes complete with hats.
Stephen Pohuski is originally from Hunstville Alabama. He began his training with Community Ballet School while performing with Huntsville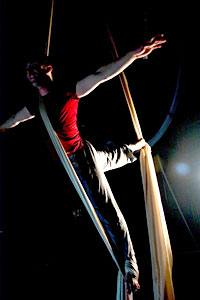 Ballet. Stephen has had additional training with Auburn Ballet as well as Kansas City Ballet and American Ballet Theatre intensives. . He has also attended and performed at the southeast American College Dance Festival and Regional Dance America festivals.
Stephen studied dance at the University of Alabama on scholarship under the direction of Cornelius Carter and graduated in 2007. Primarily trained in a Vaganova ballet technique, Stephen has also has experience in Limon and Ailey styles of movement. Additionally, Stephen has had the pleasure of performing with Vulcan Performers and Alabama Youth Ballet Theatre. Stephen relocated to Las Cruces in 2008 to teach dance as part of an Americorps program at Alma D' Arte High School.
Stephen has now been with Project in Motion for three years. He has performed on nets, fabric , cord-lisse, hammock, as well as many terrestrial modern dances. Stephen is an eagle scout, which comes in handy when rigging curtains and pulley systems. He has also been known to hang upside down for a prolonged time figuring out certain knots and ties for the aerial arts.
Stephen spent several months in the Alaskan Wilderness as part of the Americore Volunteers Program. He is quite proud of his hairstyle while there, which was a full head and beard "Fro". This is a true story. If he starts telling you about corps de ballet Caribou choreography for an Alaskan Nutcracker Production, he's making it up. Stephen juggles.
Anika Jones grew up as an athlete and dancer in Roswell New Mexico. She participated in Ballet, Tap, and Jazz classes at The Studio + in Roswell and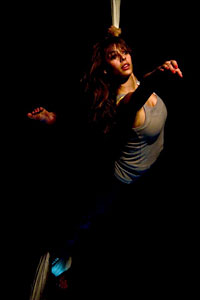 also, always an athlete, she enjoyed Soccer and Volleyball from a young age.
Anika came to Las Cruces to study Hotel and Restaurant Management at NMSU and is a Dean's list student. She continued her dance interest by registering as a dance minor and at the same time began to climb with Project In Motion. She has lived her duel life to perfection, becoming one of Project In Motion's most identifiable aerialists and iconic air-photo model while continuing to excel in her studies.
She has performed River Sounds Remembered (2009), Oceanides (2009), Fu Xi: He Who Taught Men to Fish with Nets (2010) and Prelude (2011) all on aerial fabric. She took part in a fabric workshop by Deirdre Morris of Wise Fool, Santa Fe in 2010. In 2011 Anika learned basic chord-lisse for Old Haunt (2011) and she has danced many terrestrial roles as well. Her performance with NMSU Contemporary Dance Theatre has also earned her numerous accolades and her combined efforts in NMSU programs have granted her The Lucille Grahm , Katherine Carruthers and Noble T.Jones Scholarships in the years 2008-2011.
The archetypal "Bird in the Tower" aerialist along with Joe Duerksen, she helped create this duet with artistic director Hilary McDaniel-Douglas for PIM's The Palace at Night. She has also performed in site specific production El Río En Vívo and Give and Receive. She will tour with PIM in the 2011/2012 season as the Bird in the Tower and has been a part of the company for four years.
Anika is ServSafe® Certified. That comes in handy with the post show hors'd'oevres. She has also assisted chef Justin Hicks in two gourmet fundraiser events. A Company that eats well, flies well!
Olivia Gassaway has only been dancing with Project In Motion for one year although she was a terrestrial dancer in their 2009 collaboration with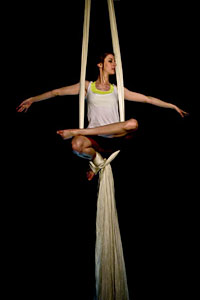 NMSU Dance Program called " Winter Will Be White Again". She hardly imagined she would be an aerialist performing in PIM's 2010 Halloween spectacular on harness and aerial fabric, but perhaps that's where her aerial aspirations stem from.
Olivia grew up dancing Tap, jazz and is trained in Vaganova style ballet. Her family hales from Albuquerque New Mexico where she learned the art of tea, as a Senior Server at The St. James Tearoom. She trained in aerial fabric for a year, as a PIM apprentice, before becoming a full company member in 2011. Olivia choreographed "Denmark" that same semester for the PIM "Music's in the Air" reunion concert with Gideon Freudmann.
Olivia's excellently organized choreographic style gives hints of her other job and studies ,as a student aid, balancing Post expenses and accounts and ledgers for the NMSU Arts and Science Research Center. She also maintains Dean's list grades in the Hotel and Restaurant Tourism Management School at NMSU and was chosen to represent the NMSU Dance program at the American College Dance Festival South West Conference with her choreography. She is the recipient of several scholarships associated with the school including, The Regents, Marguerite Loya Pearson, Lee S.Lou C. Evans Memorial and Kimberly Ming Scholarships. Olivia teaches aerial fabric for Project In Motion.
If you ever get to witness Olivia's dead on, electric fan aided, Cher impersonation, you are in for a treat. We also hear that she has a full roster of one-woman rendition episodes of "Seinfeld" completely memorized. Olivia's signature trick is the one-foot hang! Ouch!
The Project in Motion Apprentices for the
2010/2011 and 2011/2012 seasons are:
Lauren Mendosa (background image on this page)
Marty Dorado
Federico Garcia
Jacob Albers