COMING SHOWS
Schedule
Above Borders Aerial Dance Festival
Fabric Extravaganza 2017!
September 22, 23, 24, 2017
CLICK HERE FOR MORE INFORMATION »
Hypatia and the Skywatchers
check back for details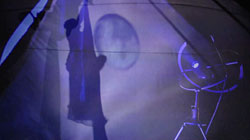 Video - Hypatia and the Skywatchers
Prices are minimum suggested donation
PAST SHOWS
show info +
2017
Rairities - There Is No Planet "B"
Las Cruces,N.M.
May 11, 12, 13, 14
Nemtacatacoa Teatro
ArreuG – Frames of a violent past
Las Cruces,N.M.
May 8
2016
Fifth Annual
Above Borders Aerial Festival
Las Cruces,N.M.
November 11-13
Fantasé Festival 2016
Santa Fe,N.M.
June 18
2015
Project In Motion's 2014 / 2015 Season
"Feet and Wings: Fifteen Years of Motion"
4th Annual Above Borders Aerial Festival
Las Cruces,N.M.
November 14 - 15
Hey Brother, I Have Changed
Las Cruces,N.M.
March 12 - 15
PiM at UTEP
El Paso, TX
February 23 - 26
Black Box Concert 2 & Fundraiser
Las Cruces,N.M.
February 21
The Shell-Shocked Nut
New York,N.Y.
Hosted by La Mama Theater
And The East Village Dance Company
January 1, 2, 3, 4
2014
Indiana Workshop
December
Feet and Wings Winter Concert
Modern Animals
December 6, 7
Las Cruces N.M.
Critter's Christmas Fundraiser
December 4
Las Cruces N.M.
Above Borders
Aerial Dance Festival and Concert
November 7, 8, 9
Harvey Gin Studios, Las Cruces
more info »
DAAC Renaissance Festival
November 1, 2
Las Cruces N.M.
Art In Odd Places Festival
October 17, 18
Indianapolis
Fundraiser / Black Box Concert
October 3, 4
Harvey Gin Studios, Las Cruces
Downtown Market
September 10th
Las Cruces,NM
Indiana Workshop
August
Company Auditions
August 24
Harvey Gin Studios, Las Cruces
The Moon and Stars
April 11,12,13,17,18,19
A performance with PIM in collaboration
with local astronomy groups.
The Gin Studios Las Cruces

Palace at Night
March 22nd, 23rd
Indianapolis Museum of Art,
Indianapolis Indiana
Student / Apprentice Show
February 22nd
The Black Box Theater
Las Cruces, NM

Kids Festival
February 22nd
The Gin Studios
Las Cruces, NM

The Shell-Shocked Nut
January 3rd, 4th and 5th
East Village Dance Project
La Ma Ma Ellen Stewart Theater New York

2013
High Heel for High Hope
November 15th
Las Cruces Convention center
Renaissance Fair
November 2nd, and 3rd
Youngs Park, Las Cruces NM
Above Borders Aerial Festival
October 18th, 19th and 20th
Las Cruces, NM
The Gin Studios
The Palace at Night
In the twilight hours, the Queen and her subjects roam the palace, each with a dream awakened. Inspired by the work of 20th century sculptor and artist Alberto Giacometti, the production conjures a series of vignettes, brought to life through the aerial mastery of Project in Motion.
To see a video from a previous performance
of The Palace at Night click here
October 11th, 12th, and 13th
Downtown El Paso
Chalk the Block festival
June 13
Las Cruces, NM
The Gin Studios
June 14 & 15
Santa Fe, NM
Railyard Performance Center
June 22
Bloomington, IN
Buskirk-Chumley Theatre
June 27 & 30
West Lafayette, IN
Eliza Fowler Hall
Stewart Center
July 6
Boulder, CO
The Dairy Center for the Arts
A Midsummer Night's Dream
March 8, 9, 10, 15, 16, 17
A mesmerizing adaptation of the classic Shakespearian comedy like you've never seen it before!
2012
The Egg
December 1, 2
A family aerial show with live music by our guests
from New Orleans The Assembly Kora Band
The Assembly Kora Band
November 30th
Featuring Jonah Israel on Kora and
Fernando Lima on percussion.
Above Borders
October 19, 20, 21
Aerial Dance Fest
Night Flyer
September 14, 15
Part of the Depot District Arts Festival
Fly High and Speak Easy
A show of song and aerial dance to live music
featuring Rick Olson, and The Singing Chef,
Justin Hicks
March 9 and 10
Las Cruces, NM
Agua
April 21,22, 27,28
APAP & ISPA Conference
NYC January 3-13
January Fundraiser:
with chef Justin Hicks
January 2012
2011
High Heels for Hope
Fundraiser for the March of Dimes
Friday November 18,
Las Cruces Convention Center
Las Cruces, New Mexico
Dona Ana Arts Council's Fundraiser
Renaissance Festival
November 5th and 6th, Young Park
Las Cruces New Mexico.
The Palace At Night
A series of vignettes comprised of aerial and terrestrial dance pieces performed on, in, and around a custom built sculpture.
Arts Midwest Spotlight Performances present:
Project in Motion:
The Palace At Night
Thursday September 8,
Pantages Theater
Minneapolis, Minnesota