Highlights from 2015
Awards
McCune Foundation Foundation Grant 2015
National Endowment for the Arts Challenge America Grant for
The Above Borders Aerial Festival 2016
Supporters
Las Cruces District 4
Las Cruces District 5
Festivals
Fantasé Festival 2015 "Hypatia and the Skywatchers"
"Above Borders Aerial Festival" 2015
Renaissance Festival Fundraiser for DAAC
Fraternal Order of the Eagles Yearly Conference
Concerts/Performances
The Shell-Shocked Nut with The East Village Dance Company
La Ma Ma Theatre NYC
"Hey Brother ,I Have Changed" The Modern Military Experience As Told Through The Words of David Lowery Spring Concert 2015
Bill Evan's Somatic Dance and Performance Conference 2015
February 2015
"Feet and Wings: Fifteen Years of Motion" our fifteenth season has been an amazing ride! We performed at three lovely festival settings, Las Cruces Market, Art In Odd Places Indianapolis, and our own festival "Above Borders" which celebrates aerial dance. Las Cruces Market was an adventure in adapting to low tech. We played to large crowds and charmed them with pieces like " Hummingbirds" and "Falling In Love Again" which were incredibly well received.
Art In Odd Places Indianapolis was a step above. Utilizing well-funded local innovators, it surprised and refined the outdoor festival despite a brief shower late Saturday, October 18th. Our amazing performance space was The Soldiers and Sailors Monument in downtown monument circle. Incredible in the daytime, it became picture perfect at night. If we only had a perfect picture! Our subject matter was PTSD which geared up for our spring concert theme and also harked back to the seasonal performance of " The Man Who Sold The Arabs The Moon" in The East Village Dance Project's December/January production at La Mama Theatre in New York City called "The Shell-Shocked Nut.
Lisa Natoli from NYC, Brandy Leary from Toronto, Cananda and Sam Tribble from L.A. were the amazing specialists that highlighted our third annual " Above Borders" Aerial Festival. This year it was a truly international festival, attracting participants from Mexico and Canada as well as the U.S. The most entrancing part of the weekend was the teachers concert Friday night. Lisa enraptured the crowd with her sensual solo fabric piece. Sam entertained accompanied by live guitar of singer-songwriter Ty Marie and Brandy brought the whole audience on stage to be entranced by her solo rope piece about glacial melting. Earth shattering!
Our December Family show was created by our Assistant Artistic Director Lauren Mendoza, and featured a fantasy story about animals and Pacific Islands. Monkeys, horses, unicorns and live dogs populated our sketches on rope, rings, stilts, traps and silks.
In January we performed in " The Shell-shocked Nut" at La Mama Theatre in NYC, invited and directed by Martha Tornay and her wonderful East Village Dance Project. The small Avenue C Studio in the East Village, which EVDP has created, is a perfect intimate space for families to support local dance in that area. Just the right kind of dance development for children under the watchful eye of Martha, it is also the perfect connection for PIM. We love it every year! Our "Man Who Sold The Arabs The Moon" duet will also be danced in the spring show in Las Cruces " Hey Brother, I Have Changed".
After our lovely February "Fledglings" show for students, the spring show takes place. " Hey Brother, I Have Changed: An Aerial Dance About Military Tradition Framed by the Songs of David Lowery" includes the wheelchair duet and also "Camp Pendleton", the quartet danced with rope (cord lisse) in Art In Odd Places Indianapolis. It also highlights 13 other songs and brings back company member Anika Jones as a featured performer. Anika now lives and dances in Austin, Texas. She, Siddeeq Shabazz, Lauren Mendoza, Angel Flores, Morgan Taylor, John J.T. Taylor, Anne Bishop, Gabriela Martinez and Andrea Saucedo bring "Hey Brother, I Have Changed" to the stage in Las Cruces from March 12-15. Seats extremely limited! Reserve ahead on line!

February 2014
Project In Motion looks forward to its 2013/14 season "The Moon and the Stars" which kicks off this weekend in El Paso with four performances of "The Palace at Night: Inspired by the work of Giacometti". With guest artist Mandi Karr, new stilt costumes by Brittany Wood-Stockman and music by Peter Jones the Palace takes over an entire city street at the bequest of El Paso Department of Museums and Cultural Affairs. The Next weekend,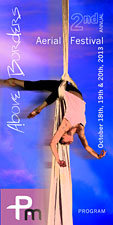 October 18-20, The Second Annual "Above Borders" Aerial Dance Festival will be in Las Cruces at our very own Gin Studios. An instructor performance will take place Friday October 18th at 7PM and the workshops will begin the next morning! Get your climb on in a big way with Sam Tribble returning by popular demand and the addition of Sato from NYC on fabric and Lyra,Sarah Newton from Texas( a friend from our many rambles with Contemporary Dance Fort Worth) and local John Taylor. Our November is full of private shows including return gigs for the DAAC benefit at Young Park, otherwise known as The Renaissance Festival and a brief gig for High Heels for High Hopes( another return engagement). We'll keep you informed of our December and January benefit events and then in January we journey to New York's East Village to work with our friends at The East Village Dance Project at La Mama Theatre. Keep your fingers crossed about a very special guest in February and then on to an engagement in our favorite crossroads city, Indianapolis, Indiana at their highly renowned Art Museum on March 22,23. "The Moon and the Stars" show will be in April, a busy month, but a great one for night sky gazing!
Last year's shows were extraordinary! Starting with the highly acclaimed "Nightflyer" based on the work of New Mexico playwright Susan Melinda Dunlap and staring Georgina Amendariz and Stephen Pohuski to a score by John Hegner, " Dramatic Air" embraced a variety of plays. In December " The Assembly Kora Band" took over the streets and the hearts of Las Cruces with their enchanting live accompaniment of "The Egg". The play by Artistic Director Hilary McDaniel-Douglas and poet Teresa Scollen followed the adventures of Max, a cat ( Stephen Pohuski) a Ballerina( Georgina Amendariz) an Owl ( Anne Bishop) and a Hummingbird ( Lauren Mendoza). With a guest appearance by Technical Wiz Bob Almond as The Grasshopper, "The Egg" entertained local Elementary and High School audiences before taking on a weekend of fun performances and critical reviews!
The last event in "Dramatic Air's" Season was the grandest! "A Midsummer Night's Dream" starring local favorite David Edwards and co-directed by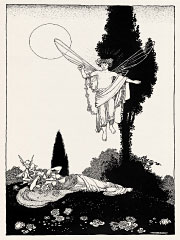 David Ollington and Hilary McDaniel-Douglas brought together an incredible cast from near and far and featured talented fabric artists as the fairy band. See the review by David Salcido under "News". The two weekend sellout delighted audiences who braved an unseasonable cold snap the first weekend and chuckled so hard the second that one audience member reportedly broke his chair and remained laughing even on the ground! Britney Stout, Eric Young, Megan Thompson,Julian Alexander,Claire Koleske and William Zimmerman all shone as the ice cream sunday of a Shakespeare play and Alex Zolnerowich, as Puck,was the cherry on top. Alex and apprentice Kyler Breed both came into the Company for months before the play and mastered climbing to authenticate their roles.
In the summer tour of "The Palace at Night", Breed stayed on as "The Pod" complimenting Stephen Pohuski's role as "The Artist", Anne Bishop as "The Queen" Assistant to the Artistic Director Lauren Mendoza as "The Bird" and Georgina Amendariz and Morgan Taylor sharing "The Spine". The company saw successful shows in Indiana, Colorado and New Mexico and took on a workshop in Lincoln Nebraska on the way.
February 2013
Project In Motion's 2012/2013 Season started off with "Night Flyer", a prose play by Truth Or Consequences resident Susan Melinda Dunlap. This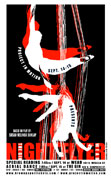 unusual take on a Beckett-like view of life, is set in an old house and focuses on a girl's conversation with an imagined ghost. Project In Motion used a shadowbox which reflected Lyra work, as well as a video by NYC dancer/choreographer Sarah Dahnke. Aerialists Stephen Pohuski and Gina Armendariz used single point trapeze ,lyra and terrestrial dance to dramatize the play. Narrators Megan McQueen and Bradley Martinez vocalized the prose, and stage props, such as an old box record player, brought the play to life. An ambient sound score by long time PIM collaborator, John Hegner of Starbell Hatchery Studios, completed the rainy atmosphere with crickets chirping in the eaves and a magical piano melody that rang through only when the trapeze or lyra were in motion. The audience relaxed in the Gin Studios and were told to imagine they were in a casual Brooklyn Loft.
Next month Project In Motion brings theSouthern New Mexico, Eastern Texas, Northern Mexico area its first Aerial Dance Festival! The "Above Borders Aerial Dance Festival" October 19,20,21,welcomes back our friend and guest choreographer, Nancy Smith of Frequent Flyers Productions of Boulder Colorado, to teach single point trapeze. Sam Tribble, a multifaceted circus and gymnastics performer from California will participate as a Conditioning and Acro-balance expert. He will also be on hand to teach Traveling Rings and couch Rue Cyr enthusiasts. This festival is open to all, and will be divided into appropriate levels on the Friday night opening of the festival to better serve the participants. Saturday and Sunday cost $45 each, with the additional Friday night introduction classes free! Flyers are encouraged to register soon for both days as registration will be capped at 18 registrants. pimdance@gmail.com for inquiries, or call 1-575-208-4413.
Auditions for the Project In Motion Company and apprenticeships will happen Sunday, October 21st, at 7PM. Company hopefuls do not need to register to audition, but are encouraged to do so. Email pimdance@gmail.com. Company members are paid. Apprentices sign training contracts with the company and their progress is monitored. Apprentices are evaluated to become full time company members.
December 1and 2, brings PIM's anticipated family show. "The Egg" will feature 'The Assembly Kora Band" from New Orleans, Louisiana. The Kora, an African harp, similar in sound to a celtic harp, brings an ethereal ambiance to this story about a tree and some creatures that find their way into it. Project In Motion has a long history of family friendly productions with its "Sun Stories" series. This story will have a similar format, but feature the entire PIM aerial company.
Project In Motion will participate in several other events this season. The Company is available for private hire, and this October they will perform for the popular annual South West Environmental Council Benefit, which commissioned three aerial pieces. Project In Motion members Lauren Mendoza and Stephen Pohuski will travel with Artistic Director Hilary McDaniel-Douglas to the Interlochen Arts Academy in Michigan in December to conduct an Aerial Workshop. PIM's community classes outreach are ongoing and available individually or as a series. Call 575-208-4413 or email pimdance@gmail.com.
Stay tuned for auditions for the springs production of A Midsummer Night's Dream with co-Director David Ollington to take place in January 2013.
August 2012
Project In Motion's 2012/13 season Dramatic Air will soon be underway. A year of plays and stories set with aerial arts, dance, a guest list of luminaries, and engagement for everyone. Following teacher training, made possible by a generous donation, our teachers are also ready to plug back into aerial and dance classes with enthusiasm.
We received information in June regarding coverage in one of our favorite magazines, New Mexico Magazine! We were very excited and supplied them with one of Michael Xun Chi's gorgeous images of company member Lauren Mendoza. This week we learned that the magazine's out on the stands. Look for it! The online version contains a blurb about PIM ranking of #4 in NM Mag's reasons to love Las Cruces. It has no picture though, so we highly recommend a hard copy from the newsstand so you get that beautiful 7x11 picture too!
Finally, as an ongoing campaign of improvements to be enjoyed by our audiences and students we will be introducing several fundraising campaigns this year. Embrace them with the knowledge that all donations are tax deductible and all will go toward projects like bleacher seating and or the very exciting summer tour in 2013.
Our first is up at www.peerbackers.com listed under "Project In Motion". It supports our first Aerial Dance Production of the new season, Susan Dunlap's play "Night Flyer"
Dramatic Air
Project In Motion Season 2012 / 13
Night Flyer
September 14 / 15
Part of the Depot District Arts Festival
www.brownpapertickets.com
Above Borders
October 19, 20, 21
Aerial Dance Fest
Auditions for Project In Motion Aerial Dance Co.
October 21
The Egg
December 1, 2
A Family Aerial Story
Midsummer Night's Dream
March 8, 9, 10, 15, 16, 17
"Well met Titania!" We are but fairies in the air!