Run away and join the aerial dance fest
By Khayla Golucke / What's Up
November 2016
What do a gymnast, a wrestler, an 80-year old adult, and an ex-NFL player all have in common? No, they're not the new cast of "Dancing With the Stars," but they do share a passion for aerial dance as students of New Mexico-based aerial arts company Project in Motion.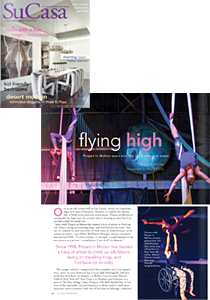 Su Casa
Winter 2015
Flying High - Project in Motion soars into the Las Cruces art scene
Review by David Salcido
Out in an old cotton mill in Las Cruces, artists are experiencing a new type of freedom, freedom to explore the adrenaline of both terrestrial and aerial dance. Project in Motion is setting the bar high into the artistic rafters, helping to turn Las Cruces into a hub for the aerial arts.... (read more, download the pdf)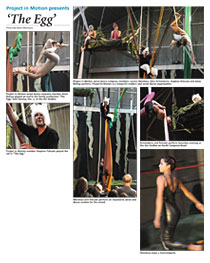 The Las Cruces Bulletin
December 2012
The Egg
Review by David Salcido
Local aerial dance troupe Project IN Motion presented a fresh and whimsical evening of family entertainment with its original production, The Egg, at the Gin, Sunday, Dec. 2. Penned by Artistic Director Hilary McDaniel-Douglas and featuring live music by New Orleans ensemble The Assembly Kora Band, The Egg follows the misadventures of curious cat Max, played with precision and skill by PIM mainstay Stephen Pohuski, as he trips and skitters across the stage and up into his favorite tree in search of amusement ... (read more, download the pdf)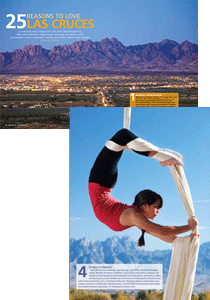 New Mexico Magazine
September 2012
25 REASONS TO LOVE LAS CRUCES
A crossroads and a college town, the state's second-largest city offers rich dividends to nature lovers, urbanistas, and seekers of rich Southwestern culture—especially in the fall, when festival season starts swinging.
Project in Motion "New Mexico is so amazing—just look up," says Hillary McDaniel-Douglas, artistic director of Project in Motion, a Las Cruces aerial dance company. Her troupe of seven performs breathtakingly fluid and balletic aerial dance. When not touring, the artists divide their time between Indianapolis and Las Cruces, where they mesmerize us in a reclaimed cotton gin. Ongoing classes in aerial dance and trapeze await the acrobatically adventuresome. Look for PIM performances at the Depot Arts District Festival, September 14–15