AUDITION FOR PROJECT IN MOTION!
Announcing auditions for
our 2013 Summer Tour:
Sunday, April 14 &
Sunday, April 21
4 - 6 PM

Auditions are open to dancers, athletes, gymnasts, acrobats, and theater artists who demonstrate some creative physical ability. Experience is preferred, but not required. Please arrive 15 - 20 minutes early to register and to warm up.

Register in advance by emailing pimdance@gmail.com. Participants are encouraged to attend both dates.
Coming Performances ...
The Palace at Night
Touring in the spring / summer of 2013
more to be announced shortly ...
check back soon
Aerialists, They're not just for circus anymore! ... a sensuous dance,
it was striking.
The Dallas-Fort Worth Star
Recently ...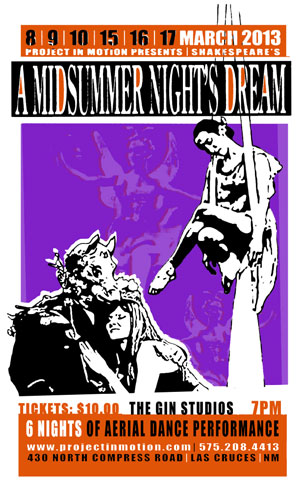 A Midsummer
Night's Dream
A mesmerizing adaptation of the classic Shakespearian comedy like you've never seen it before!
Night Flyer
A prose play by Truth Or Consequences resident Susan Melinda Dunlap
Fly High and Speak Easy
A 1920's Themed Fundraiser Concert Accompanied with live music by: Justin Hicks, The Singing Chef and Rick Olson